BioGems, the preferred supplier of Life Science reagents, founded by scientists to support the international scientific community with the essential products needed to accelerate life science research.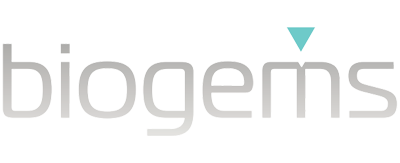 BioGems has positioned itself to become a highly competitive source for a wide range of Small Molecules, Flow Cytometry Antibodies, Media Supplements, Antibodies, and a wide range of ECM's. Providing our customers with the highest quality products at affordable prices is our goal. We are confident that our products' quality will enable us to continue achieving this goal, utilizing our highly skilled and experienced personnel.
Growing Catalog of Exceptional Quality Products
Small Molecules – Bioactive Small Molecules that can inhibit, activate, or modulate key biological pathways
Flow cytometry antibodies – Conjugated antibodies validated for Flow Cytometry.
Antibodies – Purified antibodies optimized for functional and in vivo studies.
Media Supplements – for robust cell culture growth
Pre-Coated ELISA kits
Recombinant Proteins
Extracellular Matrices (Vitronectin, Laminin, Hydrogels…)
Guaranteed Quality and Performance
BioGems is fully dedicated to guaranteeing customer satisfaction. Our products are subjected to a thorough quality-control evaluation to ensure the highest standards of consistent performance.